The Changing Medical Lexicon

By Michael Applebaum, MD, JD, FCLM
Thanks to the overweight and obese, the medical lexicon has undergone a transition.

It too has enlarged.

This appears to be most prominent in the words describing medical devices.

In addition to stethoscope, sphygmomanometer (blood pressure meter), EKG or ECG machine, etc., we now find new devices such as "cherry picker" used in patient care.

What is a "cherry picker" you ask?

It is just that. A cherry picker.

Here is a picture of one.

Once used to lift a person for the purpose of picking cherries from a cherry tree, it has been reincarnated as a medical device used to lift fat people for the purpose of providing sick care.

Perhaps a cherry picker is used because being so fat, like cherries, is the pits.

Who knows?

So many people are apparently aspiring to and achieving total fatosity, perhaps it is not the pits.

Except for the dwindling rest of us who have to pay for the excesses of the fat. Then for sure it is the pits.

At one time, we merely had overweight and obese people.

No more.

Now we have:
Overweight
Obese
Severely obese
Morbidly obese
Super obese

I understand that the following have been reserved:

Ultra obese
Super Ultra obese
Jumbo obese
Fatinum Club obese
Nimitz Class obese

Another term is "Titan-X."

This is a brand name and, just for the record, I am not endorsing this product. Or any fatware or fatwear product.

The only products I endorse for the fat person, are the ones called "eat fewer Calories than you burn" and "burn more Calories than you eat."

Here is a picture of the Titan –X and the product description from amazon.com:



"Titan X 1000 lb. Patient Lifter The Titan X electric patient lifter is the industrys leading bariatric lifter. Incorporating numerous safety and ease-of-use features that allow for the safe and effective transfers of patients up to 1000 lbs. The Titan X features a power raise/lower, a power base-widening option, a manual emergency lowering system, an oversized four-point attach padded spreader bar, and an emergency stop switch. High-capacity ball bearing casters provide easy maneuverability. Includes a four-function hand controller for operational convenience. The integrated heavy-duty battery charger provides years of service. Titan X 1000 lb. Patient Lifter Specifications:Power Source: Two 12V, 12AH batteries, with charger Height Top of Mast: 54' Spreader Bar Height: 23' to 67' Overall Length: 60' Base Width: 34˝' to 49' Warranty: 1 Year Product photo may not exactly match the product offered for sale. Please refer to the product description."

A 1000 pound or half-ton person.

If it makes him/her feel better a 2000 lb. ton is also known as a short ton. A 2240 pound ton is called a long ton.

Pass the mashed potatoes, please. I have 120 pounds to go. And can still remain a half-ton. Yum.

One thousand pounds equals 454.54 kg.

How does this weight compare to, say, the average weight of selected animals at the Sedgwick County Zoo? (from: http://www.scz.org/educators_resources/Average%20weights%20of%20selected%20animals%20.pdf)




Seems as if only the elephant and bison outweigh the human Titan-icks.

The Titan-X costs $18, 409.87. Plus shipping.

I do not know how much an elephant or bison costs. With or without shipping.

There are other devices, too.

Let's explore them.

I have left all the links in to give credit where credit is due.

This list of devices is not exhaustive; neither are the examples. They are merely representative of what is available and were chosen for no particular reason. Any typos are in the original.

Extra wide beds
Aka, the Big Berth-a.


Bariatric Hospital Beds
Any physician treating a bariatric patient must be prepared to deal with the particular situations that arise in treating the obese. Due to their larger size, obese patients must have many aspects of a hospital stay taylored to their specific needs. Included among these is the need for a special hospital bed. Bariatric hospital beds should be wide enough for the patient's girth and sturdy enough to hold up their weight.


Obese patients do not want to feel like they are being singled out, but upon admittance, their need for a specific hospital bed will likely do just that. For the patient's comfort, they will need to be placed in a room with a bariatric hospital beds. This will ensure that the patient has the proper support for his mass, since for some patients, the average hospital bed will not be sufficient. The weight supported by a bariatric hospital beds can vary by brand, and anyone who is looking ought to take into account all the possibilities of levels of obesity in forthcoming patients. Some bariatric hospital beds will only hold up patients with weights up to 600 pounds, while others will support up to 1000 pounds. The width of the bed is also important, since they are often available in sizes that vary from 48 inches wide to 60 inches wide. Every patient should be offered a bed that will comfortably support him and let him not feel cramped by avoiding a too narrow bed.
Some patients will need a bed for home use. They must look for a bariatric hospital beds that will suit their specific needs. It must hold up their at least their current weight, and it must be wide enough for the patient to lie in comfortably. Many home hospital beds are also electrically adjustable, and like those found in a hospital, the motor must be able to last through months of use. The bed must be easy to adjust for the patient. If it comes equipped with side rails, these must be simple to put up and take down for the caregiver. A quality bariatric hospital beds will likely have all of these features.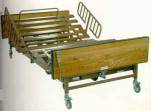 Bariatric hospital beds must also be able to perform all of the same tasks that typical hospital beds do. Many are adjustable, and if they have an electric motor, the motor must be strong enough to move the weight of the bed and the patient without grinding during use or wearing out too soon. A strong motor for a strong bed is an important feature in a bariatric hospital beds. This will save the cost of frequently repairing or replacing the motor in the future. As most hospital budgets are often strained, this is the only sensible option, but never sacrifice quality for price. The patient's comfort must always come first in any situation, including the choice of his bariatric hospital beds.
Whatever your requirements, you can find what you are looking for today in our online inventory. If you have any questions or need assistance, call us toll-free at 1-877-706-4480. Our staff is ready to assist you.





Stronger toilets

Welcome to the Great John. There is also a Big John.

Add Great and Big Johns to the lexicon.

Since the website describing this device (Great John) is so informative, I am including the entirety of the relevant pages for your complete udder-standing of this bovine butt-sized issue.

Though I cannot vouch for their work on this subject, they do seem to have a grip on the matter of fat asses.
If you have a chance, read this article. It is a john-off comparing the two toilets.

BARIATRIC TOILETS - THE PROBLEM

UK Obesity Statistics
| | |
| --- | --- |
| | Trends in Overweight and Obesity |
| | About 46% of men in England and 32% of women are overweight ( a body mass index of 25-30 kg/m2), and an additional 17% of men and 21% of women are obese (a body mass index of more than 30 kg/m2) |
| | Overweight and obesity increase with age. About 28% of men and 27% of women aged 16-24 are overweight or obese, but 76% of men and 68% of women aged 55-64 are overweight or obese. |
| | Overweight and obesity are increasing. The percentage of adults who are obese has roughly doubled since the mid -1980s. |
| | |
| --- | --- |
| | 25 to 29 is considered Overweight |
| | 30 to 39 is considered obese |
| | 40 upwards is considered Morbidly Obese |
| | The people that can most benefit from these products are those from 35 BMI upwards. |
| | In addition, we have found that many elderly or disabled can benefit from the features that our toilets have to offer. |



ANALYSIS OF THE PROBLEM

More than 60 interviews and 500 pictures and measurements were taken. A pattern of problems emerged.



| | |
| --- | --- |
| | Almost 47% of severely obese persons have dislodged a toilet from the floor. 19% of them have had the toilet break under them. |
| | Most of them don't use the seat since it pinches as it moves from side to side, and becomes unstable. |
| | Most of them consider the seat terribly small. This creates very uncomfortable pressure points at best, and at worst it produces numbness in the legs and thighs from lack of blood flow. |
| | Most males were unable to urinate in the toilet bowl while sitting, because of the lack of clearance in front of the toilet. (They sit considerably forward). Some of them have to undress before urinating. |
| | In extreme cases they don't use the toilet, resorting instead to the shower. |
| | Finally, they all plan their day, according to the availability of a suitable toilet and stall for them. |

What was needed was a toilet that would solve most of the problems and still function as a normal toilet usable by the rest of the family. For details of the development programme which resolved this problem, or to return to the main bariatric page, please click on the link below.
Development Programme
Return to Bariatrics Home Page


Pictures were taken of a number of obese subjects to create a general theory of the general area that would be required to accommodate the majority of the obese population.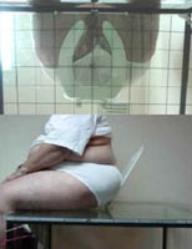 From this picture, general drawings were created.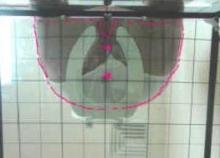 Prototypes of the seat were developed and tested.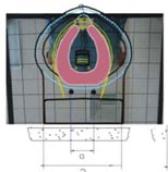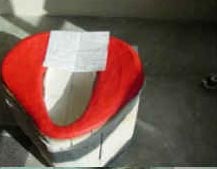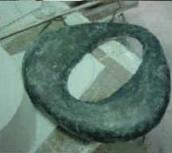 Finally, production drawings were created and the prototype ceramic toilet was manufactured.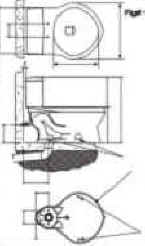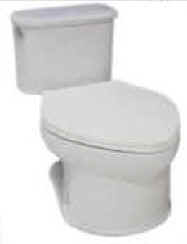 From this first prototype, the solution to the problem gradually evolved. To see this solution, unique to Great John click on the link below, or to return to the bariatrics home page, click on the appropriate link below
The Great John Solution to the Bariatric Toilet Problem
Return to Bariatrics Home Page



Bariatric Toilets - The Great John Solution

Our product was designed from the ground up (and the bottom down) to resolve most of these problems.

Comfort. It has 250% more seating area than a standard elongated seat, specifically designed for the large person in mind. This creates the most comfortable large toilet seat ever.

Convenience. For most males, urinating while seated was next to impossible on regular toilets. Thanks to Great John, this is a thing of the past for most people, since it provides 5" of extra space at the front of the toilet.

Security. It is constructed in a way that provides additional reinforced structures and a stronger ceramic base.

Stability. It has a super wide base, and additional anchorage to the floor, creating the most stable toilet in its class.

Compatibility. It is designed to be installed in the same space that your old toilet used to stand. In addition, it is designed to meet ADA requirements so it can be installed in an accessible toilet compartment.

Flexibility. Unlike some products, our toilet is designed to be used by small, and medium as well as large people.

Residential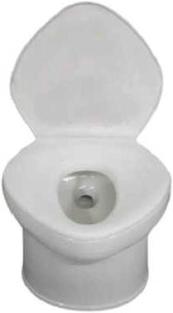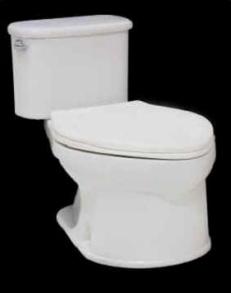 Commercial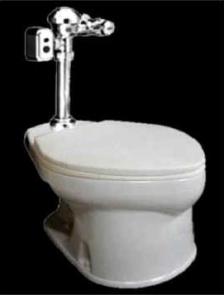 To return to the bariatrics home page, please click on the link below

Return to Bariatrics Home Page


Bariatric ambulances -- trucks equipped with hoists and special stretchers to transport patients weighing up to an inhuman number pounds.
These "muscle ambulances" are affectionately termed Bari-cudas. Add that to the lexicon.


The Bariatric Ambulance

East Coast Ambulance is proud to be the first ambulance company in Maryland to offer a "true" Bariatric Service. We currently have 2 dedicated Bariatric Ambulances in our fleet.
| | |
| --- | --- |
| | Customized Ambulances to provide comfort to larger individuals |
| | Able to transport people up to 1000 pounds |
| | Larger stretcher |
| | Additional safety restraints |
| | Pulley and ramp system for a smooth transition |
| | Climate controlled |
| | Specially trained crew |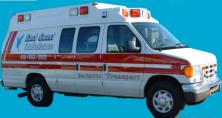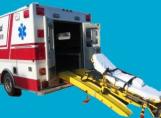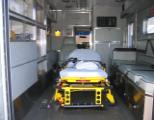 From: http://www.eastcoastambulance.com/bariatric_ambulance.htm



Wheelchairs, Shower Chairs and Walkers

Here are products setting the bari – tone for fatso mobility devices (non-powered)



The Bari-Chair, Bari-Walker and Bari-Shower/Commode Chair offer 750 lbs capacity.All fitted for bariatric/obese patients that require extra wide, extra heavy duty mobility products..

The Bari-Chair comes in seat widths of 24" up to 34" and has removable arm rests and swing-away, heavy duty, adjustable height, removable leg rests! Now that's a mouthful!

The Bari-Shower/Commode Chair comes in seat widths of 26" or 30" and offers removable arm rests and back rest for better patient access and has swing-away, adjustable length foot rests. It also fits over all standard height toilets or a removable catch pan for bedside toileting.

Finally, the Bari-Walker holds up to 750 lbs, is adjustable in height and folds for easy storage.





The Bari-Chair folds to just 13" wide, while providing 750 lbs capacity of solid steel construction.



Swing-away arm rests and removable back are standard features on the Bari-Shower Commode chair.
From: http://www.newcaretherapies.com/chair.html



Ample People

Ample means:

1. fully sufficient or more than adequate for the purpose or needs;

ample. Dictionary.com. Dictionary.com Unabridged (v 1.1). Random House, Inc. http://dictionary.reference.com/browse/ample (accessed: September 28, 2007).

Clearly ample people are too much for the purpose of being human.

Plus, they apparently stink.

AMPLE HYGIENE FOR AMPLE PEOPLE

20-page booklet gives you a personal regimen that can help you feel fresh all day. It's full of tips for dealing with odor problems, fold irritations, chafing, difficulty in reaching, and more! By Nancy Summer. Willendorf Press.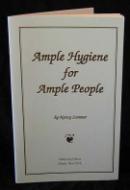 Well, there you have it, our round-up of some new terms that have been added to the medical lexicon courtesy of fat people.

Er, ample people, that is.